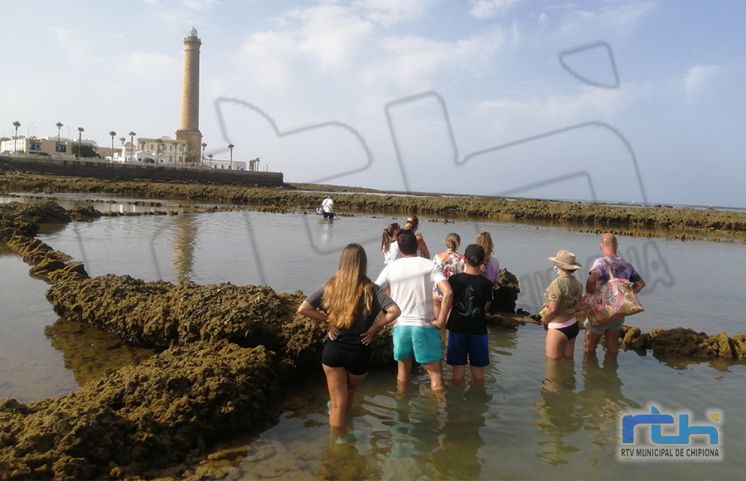 Photo taken from RTV MUNICIPAL DE CHIPIONA
The Tourism Delegation of the Chipiona City Council has started the traditional free visits to the fishing corrals since last Monday, August 9, structures that constitute ancient fishing gear that are a hallmark of the town. The activity is developed with the collaboration of the "Jarife" Corral Shellfish Association and is a fundamental resource for the town's summer tourism offer.
The department headed by Francisco Javier Query has reported that there are still places for visits on August 24 and 25 and September 6, 10 and 22. Registrations can be made at the Tourist Office, telephone 956929065, or email turismo@aytochipiona.es.
Chipiona has nine fishing pens: Montijo, on the beach of the same name; La Longuera, on the beach of La Cruz del Mar; Cabito, Trapillo and Nuevo, on Las Canteras beach; and Mariño, Canaleta del Diablo, Hondo and Chico between the beaches of Camarón and Tres Piedras.
During the visit, the attendees are made aware of what these structures are for, their history and the ancient fishing art that is carried out in them. It also explains how the species live and are maintained within the corral and the need to respect this unique ecosystem.
The visit is guided by staff from the Tourist Office and is carried out by the 'cataor' of the corral, the person from the Jarife Association who takes care of it, who shows the attendees a tasting in real time.
News from http://www.chipionatv.com/sones-de-primavera/item/9499-la-delegacion-de-turismo-ha-retomado-esta-semana-las-visitas-guiadas-a-los-corrales- de-pesqueria-de-chipiona